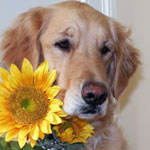 The main house has been lovingly restored by its owners and inn keepers, Jan and Paul Maggi who reside in the private wing of the main house with their two golden retrievers, Sophie and Mary.

They are always available to offer suggestions regarding local attractions and activities.
New Hampshire Bed and Breakfast Getaway
Located in Center Harbor, New Hampshire, Hearthstone is a bed and breakfast that offers its guests an informal charm and tranquil retreat nestled in the heart of the lakes region. Located at the end of a gated private drive, the graciously restored main house and carriage house are set amidst apple orchards and maintained hayfields sited to take advantage of the extraordinary landscape. Guests may relax, observe wildlife and take advantage of nearby hiking, skiing and the natural beauty of Squam Lake and Lake Winnipesaukee.
Hearthstone provides its guests with an atmosphere that will provide comfort and allow one to step away from the routine of the day to enjoy the simpler pleasures of life. The estate has an impressive setting with panoramic views and 100 acres of rolling farmland and managed conservation land. The circa 1900 brick homestead has a notable history and was masterfully restored and expanded by the renowned architect Royal Barry Wills, including the private residence wing with two fireplaces, a paneled study, as well as great room with monumental fireplace and beamed cathedral ceiling.
Both the dining room and library in the B&B include wood-burning fireplaces and natural teak floors. Traditional form and subtle detail distinguish this timeless six bedroom home. The property also includes a stately brick carriage house with bell tower, separated guest house and care takers residence, a barn and blacksmith shop.
Breakfast is served every morning from 8:30am to 10:00am. Guests will know it is time for a refreshing glass of wine when the clock tower chimes ring at 5pm. The late evening brings roasted marshmallows around the campfire, nestled on the property not too far from the main house.